WordPress is a content management system (CMS) open-source website for bloggers of all niches. It's perfect for newbie site builders, but professional bloggers love this platform because of its versatility and the plentiful options for blog customization.
More than two-thirds of the internet runs on WordPress. WordPress also powers all kinds of websites, ranging from typical websites, blogging sites, business websites, advanced portals, and even website app sites.
With thousands of WordPress plugins, the functionality of your WordPress site is widely extended as well. Designers have full control of how they want their WordPress site to look, function, and interact with their users and other sites.
It is why bloggers love WordPress. They can modify their site based on their niche and set goals for their blog more than self-expression. To further boost WordPress performance, bloggers use different plugins and tools to adjust as they scale their website with the future growth of their blog.
10 Plugins Every Blogger Needs
Here are some of the best plugins and tools to help bloggers create high-quality content quickly, publish in no time, and get a better SEO ranking on search engines.
1. SEMrush SEO Writing Assistant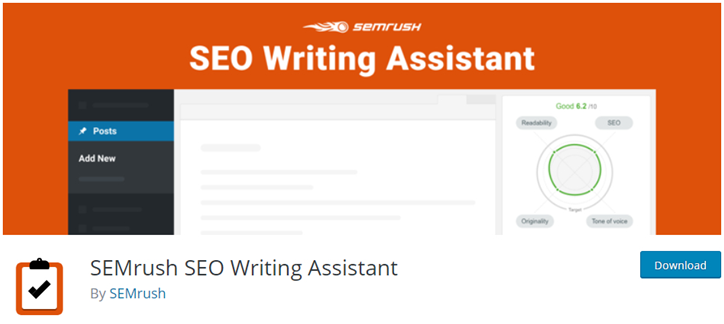 SEMrush has a WordPress plugin, the SEMrush SEO Writing Assistant, packed with the best SEO toolkits available. This plugin provides instant recommendations to optimize content based on Google's search algorithms for its SERP (Search Engine Results Page).
Bloggers will monitor if they are using texts that meet different content-quality requirements in just one click. Bloggers just need to open an account with SEMrush to use the free features of the plugin.
The free version of SEMrush SEO Writing Assistant provides access to one template, while the premium plan unlocks access to more templates.
This plugin is useful because it can analyze your content and guide you to improve your blog's ranking to transform it into SEO-friendly content. The plugin also helps bloggers optimize keywords and provides suggestions on how to boost content in line with those targeted keywords or key phrases.
Other features of this top-ranking WordPress plugin are the following:
Overall score: grades the article's overall quality calculated according to its readability score, target keywords, and text length.
Readability score: analyzes the reading difficulty level of your content based on the Flesch-Kincaid reading-ease score. Recommendations are highlighted to guide bloggers on which parts of the content to edit or improve.
Target and recommended keywords: shows you if you are hitting your target keywords and provides semantically related keywords suggestions to improve your content's keyword volume.
The tone of voice: analyzes if the writing tone is consistent throughout the content and based on the kind of audience you set for your content.
Plagiarism: It shows your score if it is original content and highlights parts of your content: duplicate content.
Linking: tracks all links you used in the content and shows possible errors or issues.
2. Yoast SEO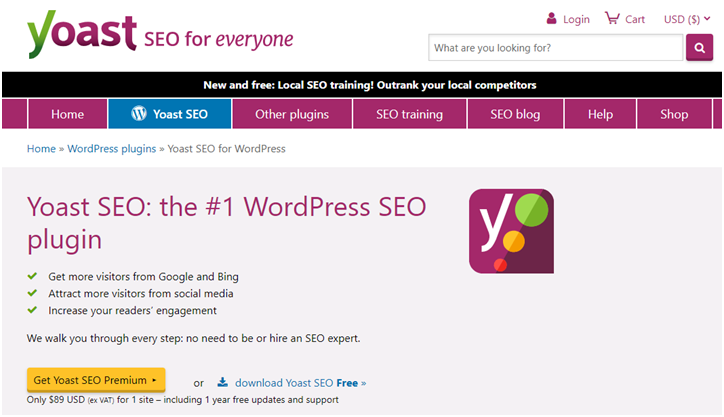 Yoast SEO can be installed for free. It is a great plugin to help you generate SEO-worthy and high-quality content. You can manage titles, meta tags, alt tags, and more for SEO optimization.
With the free account, you get full access to all Yoast SEO academy courses, find high-performing keywords and keyword optimization. You also get to access the app in multiple languages and add schema.org data for faster indexing, rich results.
Yoast SEO 14.0 also introduced a new way of data gathering in WordPress, which creates a faster, better, and safer experience for both bloggers and their readers. However, you have to manually keep an eye on Yoast notifications on any pages not updated for six months. Yoast SEO Premium has keyword optimization. In the free version, bloggers can only input a set of keywords. In the premium version, you can add more related keywords and reach a wider audience.
3. OptinMonster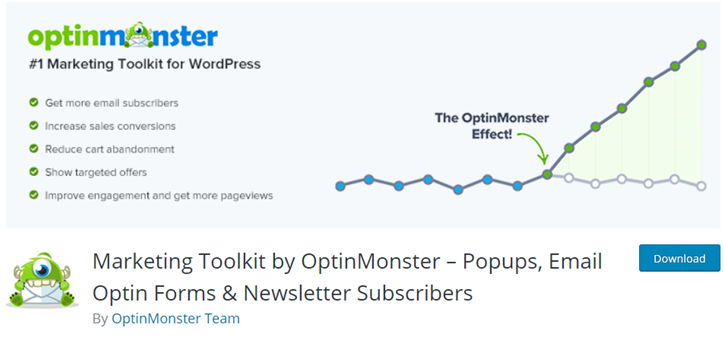 OptinMonster is a plugin that lets you tailor your WordPress email list via forms on your blogs. These forms get vital details from your subscribers. OptinMonster is also compatible with other email marketing tools like Campaign Control and Continuous Contact.
User experience is the number 1 priority with your OptinMonster has been prioritized. It is why, unlike traditional WordPress popup plugins, OptinMonster comes with smart targeting and customization features that display the right popup message to the right user at the right time.
These OptinMonster pop-ups and newsletter opt-in forms are also 100% mobile-responsive to not deter any sign-ups via mobile, tablet, laptop, and desktop.
Bloggers can also create different forms, like lightbox popups, sidebar forms, slide-ins, and floating web bars. It is an excellent tool for lead generation and integrates well with other email marketing tools like Mailchimp, GetResponse, InfusionSoft, Constant Touch, and AWeber.
The OptinMonster plugin comes with a popup that prevents cart abandonment, called an Exit-Intent Technology. With this feature, visitors to your site can leave their email address or press the Social Sharing button before exiting your site, both a win-win for you in terms of outreach and follow-up. It promises to transform 70% of guests who may never convert to subscribers or consumers. It can give growth outcomes in as little as a day. It's an all-in-one plug-in and pop-up builder for marketing that lets you improve email subscribers, revenues, and ultimately your blog.
4. Ahrefs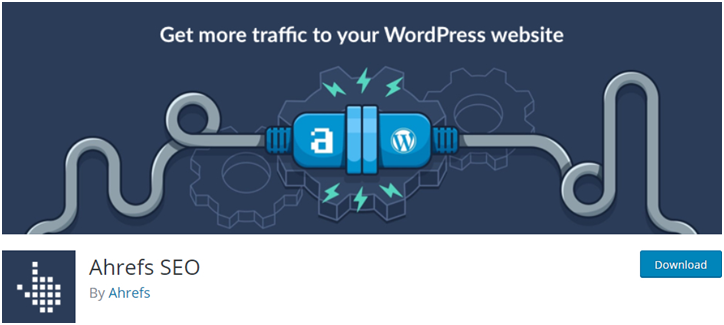 Ahrefs is an all-around, powerful SEO plugin preferred by marketers from some of the world's leading companies. This advanced Software as a Service (SaaS) tool gathers data and efficiently monitors all your SEO efforts.
The information that Ahrefs provides includes position tracking, backlink analysis, keyword research, technical SEO, on-page optimization, competitive analysis, organic traffic analysis, content planning, and link building.
Bloggers are empowered when they know their website's backlink profile so they can secure high search rankings. The best digital marketers know that devoting resources to improve their content and get quality backlinks can generate continuous revenues.
Although Ahrefs SEO plugin is complementary to the other SEO plugins, it sets itself apart by focusing on features like the following:
Backlink Index: Ahrefs has the most extensive index of live backlinks to date, updated every 15-30 minutes. These backlinks give other proprietary metrics like Ahrefs Rank, URL Rating, and Domain Rating.
Google Analytics Integration: the plugin analyzes blog traffic and conversion rate.
Google Search Console Integration: this feature provides better target keyword suggestions, including redirecting or merging content.
Content Audit: provides targeted recommendations on content improvement to get more search traffic, done through integrating backlink index data with Google Analytics & Search Console.
5. Jetpack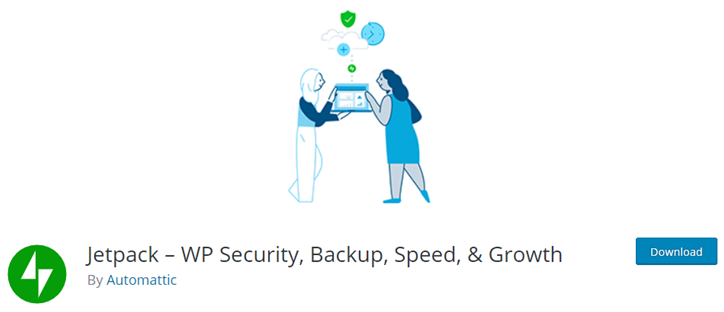 Jetpack is one of the most downloaded WordPress plugins, known to be an all-in-one, multi-purpose plugin with security, performance, marketing, design tools, and more. Made by WordPress experts, Jetpack is explicitly created to make WordPress websites faster and more secure so you can steadily grow your blog traffic.
Some of its popular features are:
Backlink Index:Ahrefs has the most extensive index of live backlinks to date, updated every 15-30 minutes. These backlinks give other proprietary metrics like Ahrefs Rank, URL Rating, and Domain Rating.
24/6 Automated Website Security: Jetpack Security has an easy-to-use, advanced WordPress site security with real-time auto backups, easy restores, spam protection, and malware scanning. It also has brute force protection, downtime or uptime monitoring, and optional 2FA (two-factor authentication) for extra protection.
Peak Speed and Performance: Websites get incredibly fast speeds utilizing Google AMP power that helps site optimization on mobile devices. It comes with a free CDN (content delivery network), which automatically optimizes blog images.
Advanced Tools for Growth: Bloggers can create and customize their site and optimize it for visitors and increased sales. Bloggers can also auto-publish blog posts and products to social media cross platforms and monetize content via payment collection, donation, product sales, membership, and the like.
Easy Design Tools: Jetpack's design tools help bloggers customize their site with no coding needed. It has a collection of themes to choose from, and makes it easy to create contact forms. Quickly embed content, links, and posts from social, either Facebook or Instagram, onto your blog.
Integrations: Jetpack is frequently updated and can seamlessly integrate with other WordPress tools like WooCommerce, Google Analytics (GA), Social media platforms, Simple Blocks for site customization, payment processors (PayPal and Stripe), Site speed plugins, contact forms, and email marketing forms.
Expert Support: Jetpack also has a global team of Happiness Engineers offering reliable and immediate expert support.
6. HubSpot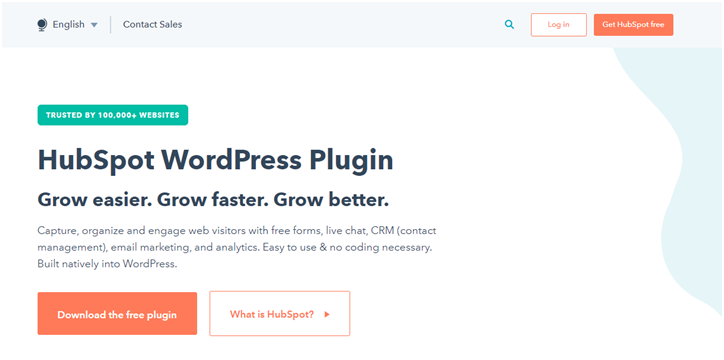 HubSpot is a comprehensive email marketing tool that provides successful marketing strategies for obtaining leads and nurturing established connections more efficiently. It has free email marketing software, CRM, live chat and chatbots, ad management reporting, forms, and more.
Send as many as 2,000 emails per month, free of charge, with the Hubspot tool. It has an easy-to-use drag and drop creator and is natively incorporated with WordPress. With more than 300 tools, you have more than enough to set up your email campaigns.
You can use the reporting and marketing automation with the premium edition, perfect for growing enterprises. The plug-in also includes a live chat tool to engage web users and guide them to conversations. You can also use chatbots to answer basic questions from members on your site automatically. Automate kickback emails anytime someone signs up for your blog to get a referral and get a contact right away.
7. MailChimp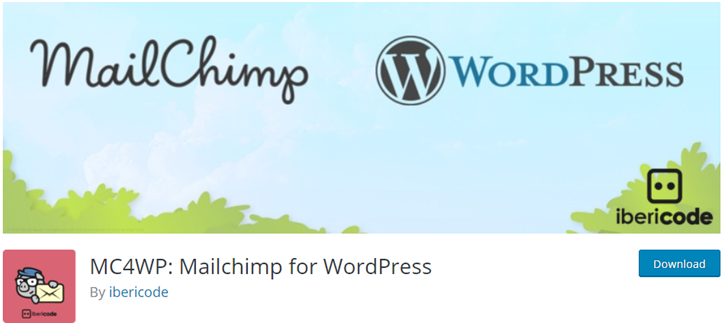 MailChimp is an email direct marketing (EDM) and digital marketing platform that can help bloggers expand their email subscribers list, create better content for newsletters, and build opt-in forms to reach more users.
This WordPress plugin is known for its user-friendly and stylish sign-up forms that can be modified based on your customers. It works well with other WordPress plug-ins like Default WordPress Comment Form and Registration Form, Gravity Forms, WPForms, WooCommerce, among others.
Email marketing may not directly affect your website's SEO, but it indirectly complements your marketing efforts when subscribers click through your site from your email campaigns. Effective email campaigns can funnel leads via clickthrough rates (CTR) into your blog site. Mailchimp plugin also incorporates well with multiple SaaS companies, who prefer Mailchimp because it increases their drip campaigns, increases engagements from subscribers with its professional-looking, visually-appealing, branded emails.
8. Drip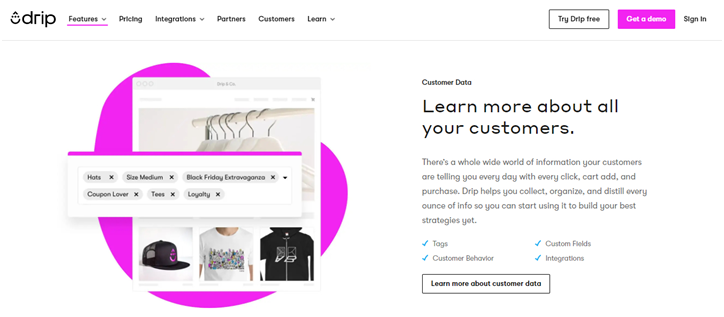 Drip is a favorite of professional bloggers. It is the world's one and only ECRM, or eCommerce Customer Relationship Manager. It provides deep customer-level personalization and insights so you can modify marketing efforts like workflow, campaign, and email messages tailor-fit to your customers.
The Drip plugin is a preferred email service provider by pro bloggers because it easily links their blog site to their eCommerce store. This plugin also helps bloggers to monetize blogs and improve their promotions via email marketing.
Drip's efficiency is from its JavaScript web monitoring code. It lets bloggers build a direct link between their WordPress site and their Drip account. Once bloggers set up their code in once click, they can begin triggering automation and popups on current site visitors. Bloggers can automate at scale and personalize customer interactions and increase conversions. Its powerful segmentation helps bloggers quickly reach their target market on cross platforms, collect email engagement analytics, and efficiently track their ROI.
9. Social Media Share Buttons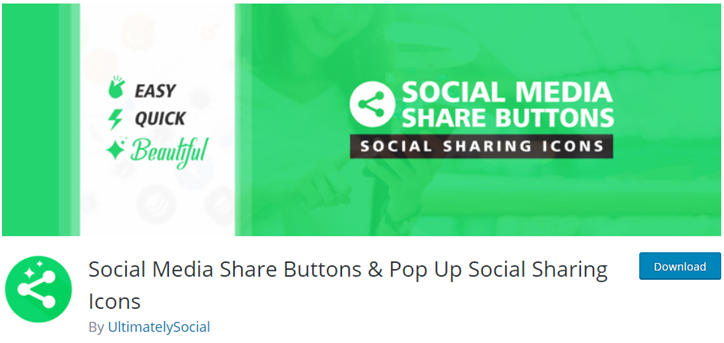 Social Media Share Buttons is a WordPress plugin that enables bloggers to add share icons for RSS, Email, Twitter, Facebook, Youtube, Instagram, LinkedIn, Pinterest, and 200+ other social media platforms. You can easily upload custom share icons of your choice.
This free plugin has a lot to offer. But the Premium Plugin has added features like selection among 16 different designs for social media share buttons, providing other actions to a single social media share icon. For instance, you can set your Facebook share icon to lead visitors to your main page and like your page simultaneously. In the Premium version, social media icons can also be animated to make them more visible. In the premium version, readers can easily subscribe to your blog by email.
10. Translate WP website – Weglot Translate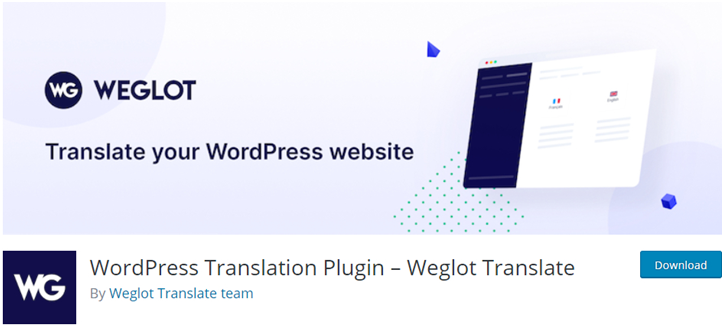 On-demand and in real-time speech translation is now available because of machine learning and IT giants like Microsoft that developed Microsoft AI translators.
WordPress also provides an array of plugins for the AI translator. Weglot Translate is one of the best and most commonly downloaded. It's a very easy-to-use translation plugin that translates WordPress websites and transforms them into multilingual pages in minutes without coding.
Weglot Translator will translate content into any language. It comes with a one-stop dashboard where bloggers can edit translations or outsource them to experienced translators to ensure translations are of the highest quality.
Different eCommerce brands, SaaS and Micro SaaS businesses, corporate websites, mobile apps, and the like trust Weglot Translate for their WordPress website.
Conclusion: Great Bloggers Need Great Plugins
With every content, you need to target getting leads, increasing conversions, and enlarging your subscription base. No content should be put to waste. So it is essential to optimize content with the right kind of WordPress plugins.
WordPress has more to offer than these ten tools in this article. That is the beauty of WordPress. You can easily install and uninstall tools to see your blog's right fit and for what you need.
The right plugins, though, can make the difference between a blog that makes ranks on SERP and a blog that does not.
The blogging scene has become more competitive, so you need to create well-designed blogs that are view-worthy and share-worthy. You can learn from your customers to outrank your competitors and use out-of-box strategies like storytelling web design techniques. Social media, as well.
You can also invest in professional software for web design like CorelDRAW Graphics Suite, perfect for editing photos, layout, vector illustration, and typography, helping you produce stunning images each time.
Adobe also has a friendlier and more streamlined version of their flagship software, the Adobe Photoshop Elements, perfect for professional and amateur bloggers. Whether you are a professional blogger or just starting, remember that the right tools help create those high-quality blogs that boost your site.
---
Author Byline:
MayleenMeñez worked for seven years in TV and Radio production, and also as a Graphic Artist/Editor. Writing has always been a hobby and pursuit, and she recently added content writing with Softvire Australia and Softvire New Zealand up her sleeve, while preparing for her next adventure in the nations.