Did you know what are the best email marketing plugins in WordPress?
Email marketing is still one of the most reliable digital marketing strategies amid emerging trends in marketing. You can easily connect and communicate through various digital channels in this digital age, but email still converts the most.
Email marketing is one of the most potent channels at your disposal to make sales and generate repeat customers. Email marketing helps you link to your target market, make a sale, and reach marketing goals without the high cost of PPC campaigns or social media advertisements. Revenue from email marketing can be up to $52 ROI for every $1 investment.
As a matter of fact, 95% of businesses use email marketing automation, and 82% of B2B/B2C companies use email marketing extensively. More than 290 billion emails are sent daily, and this number will hit 347 billion by 2023. Therefore, SEO marketers should use this marketing strategy to their benefit. Paired up with other marketing strategies like advocacy marketing or SEO marketing, it becomes a powerhouse bringing in leads and conversions without spending too much on expensive advertising techniques.
What is Email Marketing?
Email marketingis a set of strategies to communicate with current and prospective subscribers and clients, to maintain a touch base for continued lead generation and conversion strategies.
Many strategies can be optimized within an email marketing campaign, like welcome emails, cart abandonment emails, and wish list reminder emails. You can also use this strategy to send special promo codes and freebies or notifications on new discount opportunities, product tips, and business news as needed.
Emails are also a great avenue to promote recent content like blogs, so you can say more beyond what's allowed on social media platforms. Personalization is also a trend in email marketing, dealing with clients conversationally, taking note of their buying history and other preferences in your website.
Use an Email Marketing Plugin Compatible with WordPress
Every email you send needs to hit your market niche's most critical targets, boost click-through rates and conversion rates, and multiply your subscription list. If you use an email marketing plugin that works seamlessly with WordPress, you can easily mesh your digital strategies with your email campaign right off your WordPress dashboard.
You can also create and automate emails easily, simplify handling subscriptions, track leads, and monitor conversions. Here are 10 of the most popular email marketing plugins that work well with WordPress.
10 Email Marketing Plugins to Use with WordPress
1. MailChimp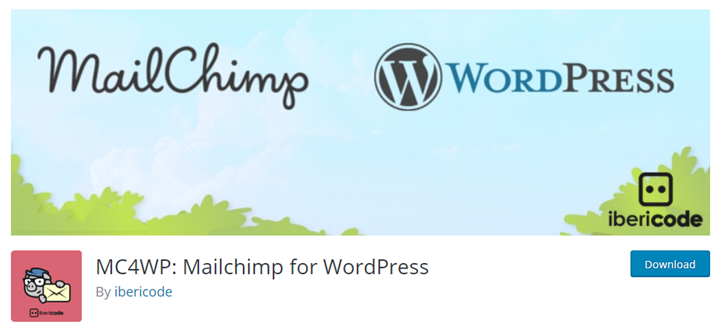 Mailchimp is an all-in-one marketing platform that can help you expand your list of email subscribers, write better newsletters, and create opt-in forms that help you reach more users.
Mailchimp is known for its stylish and user-friendly sign-up forms, which can be changed based on what details you want from your visitors. Just be careful of what information you're getting, as visitors appear to be wary of sign-up forms that ask for too much information.
You can also incorporate other WordPress plug-ins, such as Default WordPress Comment Form and Registration Form, WooCommerce, Gravity Forms, WPForms, and the like. You will get the best product-market match and get valuable input from the customer, which is useful when you start your marketing campaign.
2. OptinMonster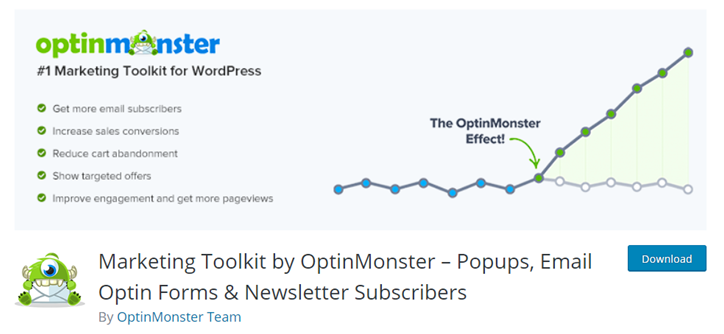 OptinMonster promises to convert 70 percent of visitors who may never convert to subscribers or customers. The goal of the plug-in is to give you growth results in as little as a day. It's an all-in-one marketing plug-in and pop-up builder that helps you increase email subscribers, sales, and ultimately your business.
With OptinMonster, you can easily create beautiful forms like pop-up forms, email subscription forms, hello bars or sticky announcement bars, and the like. It comes with smart targeting and customization features so that you can deliver the right pop-up message to your expected users at an optimal time.
3. Sumo List Builder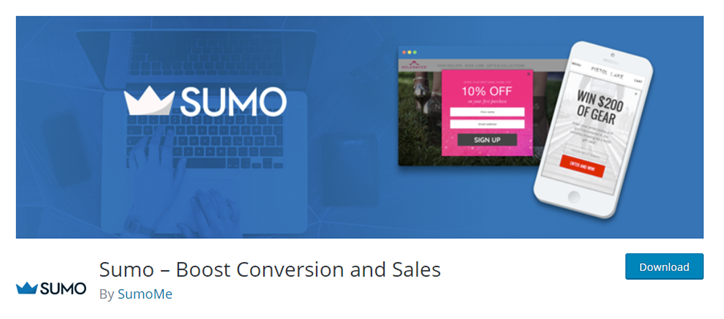 Sumo List Builder will help you expand your user email list by helping you convert one-time visitors to permanent subscribers. It has imaginative and gorgeous newsletters and pop-ups that appear on clicks and timers and the moment any user leaves your web.
It has a user-friendly and advanced drag-and-drop builder and email capture tool. Sumo List Builder is the only mobile-optimized pop-up plug-in that can be easily incorporated with Mailchimp, Campaign Control, Aweber, and Constant Touch.
4. HubSpot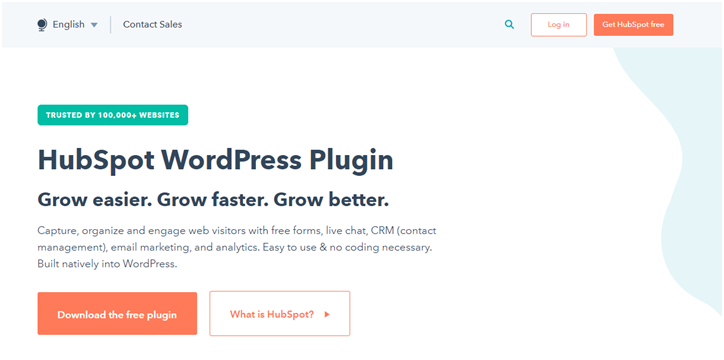 HubSpot is a comprehensive email marketing tool that provides better marketing strategies to attract leads and nurture existing contacts more effectively.  It has free tools for email marketing, CRM, live chat and chatbots, ad management, reporting, forms, and more.
Send as many as 2,000 emails per month with Hubspot free of charge. It has an easy-to-use drag-and-drop builder and is natively integrated with WordPress. With over 300 tools, you can be assured you have more than enough to build your email campaigns.
You can avail of its reporting and marketing automation when you get the premium version, ideal for growing companies and businesses.
The plug-in also provides a live chat tool to engage site users and create leads to those conversations. You can also use chatbots to respond to simple questions from your site users automatically.
You can also automate kickback emails when someone signs up for your blog to get the link and contact going right away.
5. MailPoet Newsletter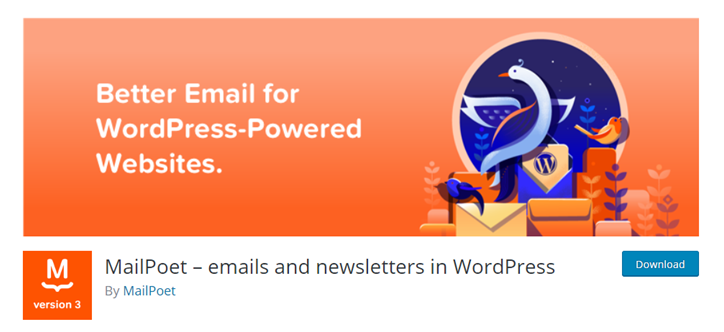 MailPoet is the ideal solution for sending unlimited emails to up to 2000 email subscribers while on the WordPress site. If you need to send emails to over 2,000 users, you can move to the premium edition without delay.
There are a lot of designers to choose from and mobile-responsive designs. Designers and Many bloggers and developers support MailPoet for consistency and customer service. It has an automated feature for sending welcome emails, and MailPoet's improved UI/UX design is remarkable. You can easily import lists and build forms that you can easily edit with its drag-and-drop features.
6. Mailster

Mailster has a drag and drop builder, allowing you to create mobile-friendly campaigns. This plugin is known for its friendly and quick customer service.
It is a stand-alone plug-in that lets you efficiently manage everything from your WordPress dashboard. It also fits seamlessly with other WordPress plug-ins. It provides analytics that keeps track of how your emails are performing.
Mailster also has an Auto Responder, translation, and unlimited subscription forms, which can all be personalized for your email subscribers.
7. Email Subscribers & Newsletters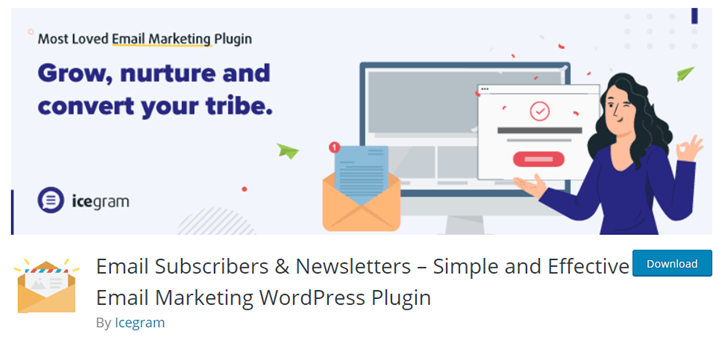 Email Subscribers & Newsletters is a brilliant email marketing plug-in with multiple free features.
Lead generation is easy and automatic to generate new blog posts and newsletters with a single click. You can easily schedule emails, monitor access for users, and integrate with other plug-ins for WordPress.
For bloggers, website owners, advertisers, and web developers, this plug-in works well. There is also customer service available for the plug-in.
To ensure that you reach the right audience, email subscribers and newsletters now have dual opt-in features. To prevent bots from getting into your mailing lists, you also have the option to add captchas to your subscription box. It keeps your plug-in secure and comes with a list of clean-up and spam testing services.
8. WP Subscriber Pro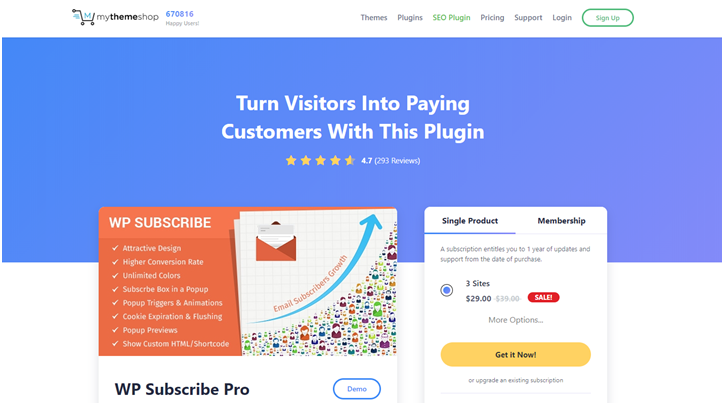 WP Subscriber Pro lets you do email marketing with ease. It focuses on increasing conversion rates and traffic from websites.  Known for its speed, this plugin targets increased conversion rates and web traffic.
You can send thousands of emails in just minutes and effectively nurture your subscriber list. You can also incorporate marketing plug-ins and services such as Mailchimp, Benchmark, Feedburner, Aweber, and the like.
It also has built-in widget support, completely customizable plug-ins, pop-up animations, 24/7 live customer support, and other functions.
9. Newsletter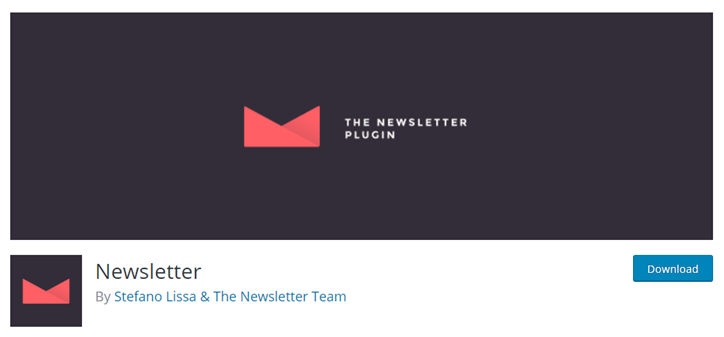 Newsletter is free, but you can upgrade to premium to unlock all features. It aims to give the best customer experience to promote your website and increase your subscribers efficiently. You can create unlimited email campaigns that are mobile-friendly and mobile-responsive. You can integrate it with your WordPress registration and come with friendly customer service.
The Newsletter plugin comes with built-in reporting, automation features and integrates well with other WordPress email marketing tools. However, Newsletter is not fit for larger websites. But you can add the Amazon SES add-on to use it for large-scale email campaigns.
10. SendInBlue

SendinBlue is a cloud-based solutionfor digital marketing serving over 50,000 rising global companies. It lets you build beautiful, user-friendly forms and manage your subscription list with ease.
Easily track your email campaign's progress with its built-in metrics or reports. In addition, it has a transactional email that can be sent via SendinBlue's SMTP. This transactional email is useful when sending confirmations of orders and applying customer updates.
With the SendinBlue WordPress plug-in, send thousands of emails and newsletters directly from your dashboard. Although all kinds of blogs and websites can use it, this plug-in is most suited for corporations and professional users that usually send up to 9,000 emails monthly for free.
Conclusion: Create Well-Designed Email Campaigns
Create well-designed, view-worthy, and high-quality email campaigns. Take time to invest in software web design software like CorelDRAW Graphics Suite. It is a complete professional graphic suite for editing photos, layout, vector illustration, typography, among other features.
Also, try a user-friendlier version of one of Adobe's flagship software, the Adobe Photoshop Elements, perfect for both pro and amateur content creators.
If you have a WordPress account, it can be your 'home base' for all your email marketing campaigns. With the right plugin, you can easily manage your subscription from start to completion. Plugins help you build a solid email subscriber list that keeps growing.
When your email marketing is fully integrated with your WordPress, it makes digital marketing simpler for your business.
So, choose the best email marketing plugin that fits your marketing goals perfectly. Your preference must take into account the number of subscribers you have. You'll need to determine how much you want to send email promotions and the type of content you want to send out each time. Whatever you need, no matter how you intend your email promotions to be, WordPress can find the best plug-in to fit your email marketing needs.
Author Byline:
MayleenMeñez worked for seven years in TV and Radio production, and also as a Graphic Artist/Editor. Writing has always been a hobby and pursuit, and she recently added content writing with Softvire Australia and Softvire New Zealand up her sleeve, while preparing for her next adventure in the nations.