WordPress is the most popular website builder in the world. And it's no wonder why. It's user-friendly, has a ton of features, and is relatively inexpensive. One important aspect of managing a WordPress site is tracking your site's analytics. But one area where WordPress falls short is in its built-in analytics. Thankfully, there are plenty of WordPress analytics plugins available to help.
That's why we've put together a list of the best WordPress analytics plugins. These plugins will help you track your website's traffic, engagement, and conversions. In this article, we'll review the best WordPress analytics plugins for 2023. Before going into deep, know, who should you use Analytics in WordPress!
Why WordPress Analytics are Important?
In order to have a successful website, it is important to understand your users and their behavior on your site. WordPress analytics can help you track your site's traffic and activity so that you can make informed decisions about your content and design. By understanding your audience and what they want, you can create a better user experience and grow your business. WordPress analytics are important for a number of reasons. Here, take a look at a couple of important reasons for having analytics on your WordPress website:
Firstly, they help you to understand what kind of traffic your website is getting.
Secondly, they can help you to identify any potential problems with your website.
Thirdly, they can help you to track your website's progress over time.
Fourthly, they can help you to make informed decisions about your website's future.
Finally, they can help you to keep an eye on your competition.
WordPress analytics are an important part of understanding how your site is performing. By understanding where users are coming from, what pages they are visiting, and what actions they take, you can make changes to your site that will improve its performance.
Best WordPress Analytics Plugins in 2023
This guide offers a short summary of the best Google Analytics plugin options for WordPress. Follow the links directly beneath this text to jump to the desired section.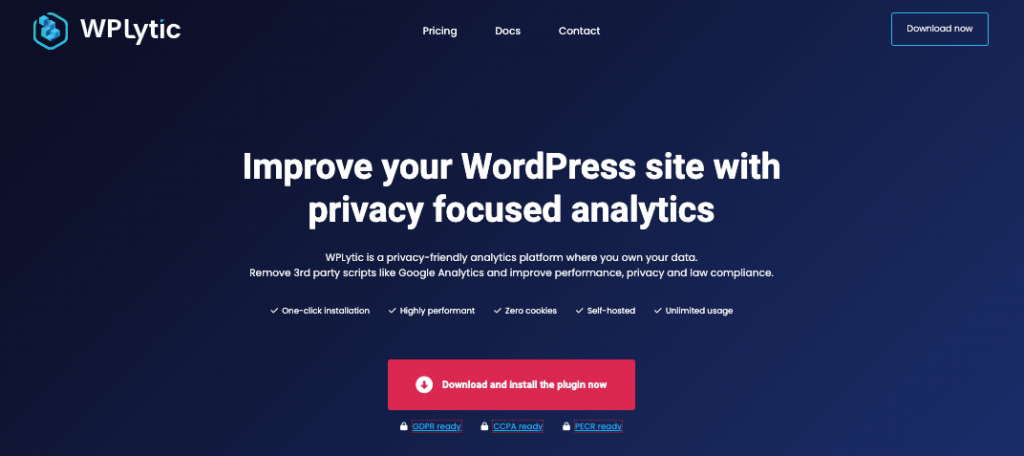 WPLytic, relatively a new yet potential WordPress plugin, allows you to track your WordPress website without touching a single line of code. WPLytic is a privacy-conscious platform for data analysis. You can remove or avoid 3rd party scripts such as Google Analytics and improve performance, privacy, and compliance using the plugin. Then, you can check your site's Analytics reports directly from your WordPress dashboard.
Best of all, you can track advanced Analytics tracking features without using any GA codes on your site. If you're debating whether to go with hosted or cloud analytics, WPLytic is hosted locally. This prevents any visitor tracking data from being shared or shared with any other companies (like Google Analytics). This also ensures that no third-party trackers and resources are loaded on your own website.
Features :
Real-time visitor count
Multi-domain view
Visitors stats
Top countries
Top pages
Top referrers
Individual session explorer
Filters, tags, and event
Tracking & Privacy
Well documented
These are some of the core features of WPLytic to consider!
Price: Currently, the plugin runs an early bird LTD that started with a 60% discount and the limited price is only $39 for a lifetime.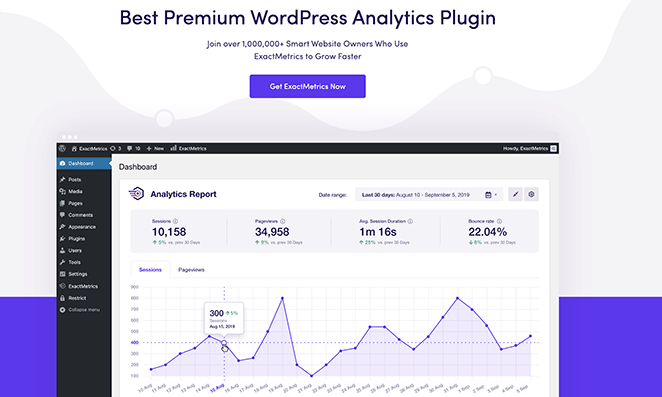 ExactMetrics is another contender when it comes to the best WordPress Google Analytics plugin. It has over 1 million downloads, which is impressive. Just like WPLytic, this plugin lets you set up Google Analytics in WordPress with a single click of a button. You are able to see all the database information in your WordPress dashboard.
ExactMetrics is completely free of charge, but it doesn't support integration with other types of plugins. However, it's a good option to set up a Google Analytics account for your site if you do not wish to pay for additional third-party software.
Features:
Track your visitors from your WordPress dashboard to see details like bounce rate, page views, organic searches, outbound links, mobile site data, and referral data.
Optimize your website for both desktop visitors and mobile users.
The real-time stats provided by your WordPress dashboard include a traffic source and acquisition channel.
Obtain page reports that allow you to optimize your pages accordingly.
Price: Free | Premium: starts at $79/year

With its powerful but straightforward functions, WP Statistics is a handy but straightforward WordPress plugin that enables you to track all website visitor activity on your WordPress dashboard. You can further track visitor information by location and blog post. Even more, this plugin shows you real-time website statistics. In addition, you can get all the features free of charge!
This isn't a Google Analytics plugin, but it has its benefits as a traffic-monitoring plugin for WordPress. With WP Statistics, you don't have to configure Google Analytics, and it won't share your website's data with anyone.
Features:
You can view all the WordPress statistics from your dashboard
Redirections from Google, Bing, and Yandex are tracked.
You may filter it however you see fit. You can select by location, browser version, keywords, IP addresses, etc.
Emails the information regarding the WordPress site you choose to keep you up to date.
Price: Free

A Google Analytics plugin called Analytify is among the most popular WordPress plugins. It's easy for webmasters to add Google Analytics tracking to their WordPress blogs. After it's been downloaded two million times, it's clear that this plugin is highly popular with the WordPress community.
The one downside is that the free version is brief and limited in its features, and if you wish to use all the abilities, you'll have to purchase the premium upgrade. It doesn't have more advanced features like WordPress category tracking, affiliate link tracking, or file download tracking.
Features:
Analytify allows you to view visitors from your WordPress dashboard in real-time. You can also check out individual pages, posts, and custom types, for detailed reports.
You get lots of extensions if you choose the premium modules. You can purchase extensions to track sales of WooCommerce products, Easy Digital Downloads downloads, and UTM campaign tracking.
Analytify sets up automated reports, containing your site s statistics, to be sent to your designated email address.
Price: Free | Premium: $59/year

WP Google Analytics Events is not a typical WordPress Google Analytics plugin. It's an excellent plugin to track events on your website, but it doesn't alert you to your data. You can easily set up events and monitor the behavior of WordPress website users and guests to observe how much money WordPress users and visitors are spending with your website. It is also possible to monitor the number of clicks on your CTA (call to action) and how far the visitor scrolled down your site. It is also possible to track affiliate links and form submissions.
The main downside is that it's a bit complicated to set up. So, you will need additional knowledge regarding how event tracking works.
Features:
Links and submissions can be automatically tracked
Compares the effectiveness of different CTAs on your webpage.
Your events can be set up in a variety of ways using this custom event manager.
The Premium Version of the plugin enables you to easily track YouTube and Vimeo videos.
Price: Free | Premium: starts at $79/year
Final Verdict
In conclusion, the best analytics plugin for WordPress is the one that best suits your needs. All of the plugins discussed in this article have their own unique features and benefits. All of the plugins mentioned in this article have their own strengths and weaknesses, so it's important to choose the one that will work best for you.
If you are looking for a plugin that will give you detailed statistics about your website visitors, then WPLytic could be the promising option. So, take some time to consider what's important to you, and then make your decision accordingly. No matter which plugin you choose, you'll be able to get valuable insights into your website's traffic and performance. And that's ultimately what matters most.