With over 5 million active installations, Elementor has truly stood the test of time, reflecting the ever-changing preferences of users. Page builders have become a staple for most WordPress enthusiasts, and Elementor reigns supreme as the leading choice. Today, you no longer need to grapple with code to craft your own websites.
As a modern-day blogger, you're now equipped with direct control over both content creation and design. As Elementor's popularity has skyrocketed, a wealth of addons has emerged, enriching its core functionality. In this article, we present you with a curated list of the finest 10 Elementor addons, simplifying your decision-making process when choosing the perfect enhancement for your website.
What is Elementor?
Elementor may not yet be a household name for some, but it stands as a pivotal WordPress plugin and one of the most esteemed page builders globally. This user-friendly tool boasts a visual editor that empowers you to craft stunning web pages and even dynamic, fully functional websites with zero prior coding knowledge. Elementor's comprehensive capabilities centralize your web design workflow, streamlining the entire process.
With an impressive user base exceeding 5 million WordPress enthusiasts, Elementor has become the preferred choice for creating web content. It offers an array of features that set it apart from other page builders, along with an extensive collection of ready-to-use templates for an instant website launch. While Elementor provides an abundance of functions, you might still seek further enhancements to broaden your creative horizons. Elementor's extensions are designed to enhance the user experience and extend the platform's capabilities, making it an indispensable asset in your web development toolkit.
What Exactly Are Elementor Addons?
You might be wondering, what's the deal with Elementor addons? Well, they are a crucial component in the world of Elementor, designed to enhance the capabilities of this popular WordPress page builder. These addons are like powerful plugins that seamlessly integrate with Elementor, offering you a plethora of new features and functionalities to take your website design to the next level. In this article, we'll explore the concept of Elementor addons and how they can supercharge your web development efforts.
Necessity of the best Elementor Addons for you
You get a lot of useful tools, widgets, and extra features to help you build and create an amazing website. Elementor addons or extensions are simple to incorporate to give your sites a functional and visual expansion. Plugins made specifically for the Elementor platform are called Elementor addons. They increase the functionality of Elementor and enhance the user interface.
You can use advanced capabilities and widgets with the help of these add-ons if you frequently use Elementor to develop websites. These addons will help you to develop a website that is really engaging and responsive by using Elementor add-ons. It unlocks a wealth of incredible functions, design scopes, and integration options.
You can choose from a wide variety of Elementor addons depending on your website, usability, pricing, and the features you wish to prioritize. As the majority of add-ons are freemium tools, you can use them without charge to make WordPress websites.
10 best Elementor addons for WordPress
There are numerous Elementor addons available for WordPress, it's not a wise decision to use them all on your website. The performance of your website can suffer if you install so many plugins. You should always be careful to avoid installing plugins that are not necessary and choose only the right Elementor addon fit for your needs. In this blog post, you will come to know the following top 10 best Elementor addons for your WordPress website.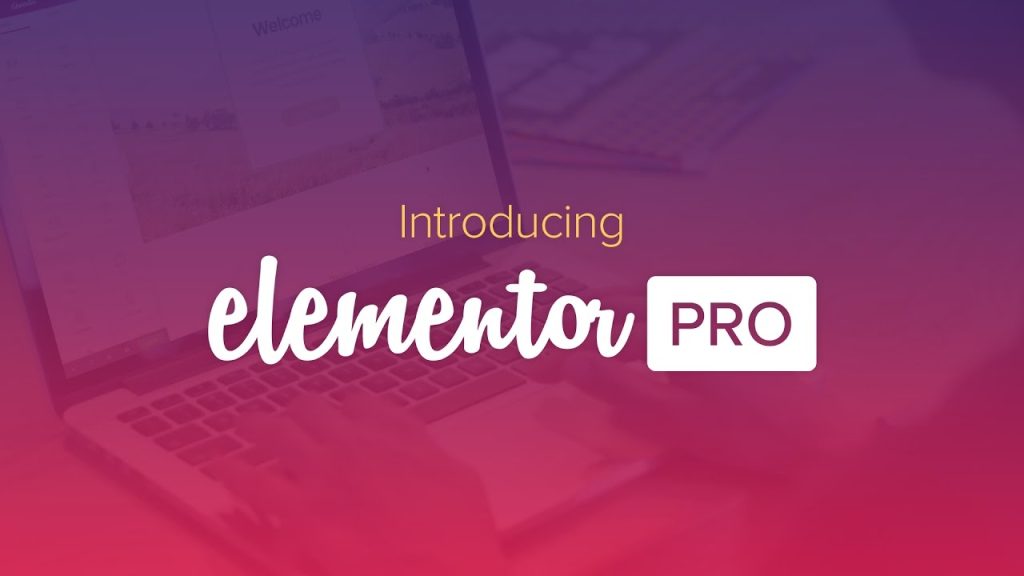 Elementor Pro
Elementor Pro is mainly the pro version of the original Elmenetor page builder. This addon provides you with advanced tools and widgets to create and design websites without knowing how to code. Elementor Pro is an end-to-end solution that gives you everything you need in one place. You can easily create your own themes using the Theme Builder that comes with Elementor Pro. With the use of this wonderful feature, you may make changes to your Header, Footer, WooCommerce, Blogs, and all other Dynamic pages that the basic version does not let.
Additionally, you can quickly design a landing page utilizing its huge library of pre-made Templates. After that, you can also modify it to suit your tastes. If you know how to code, you can also use Elementor Pro to apply custom CSS.
You can also save time by using Elementor Pro's 'Global Widget' feature. Simply drag and drop a template onto any of your upcoming pages after saving it. In order to make the most of the Elementor Page Builder, you obviously need to use the Premium version of it.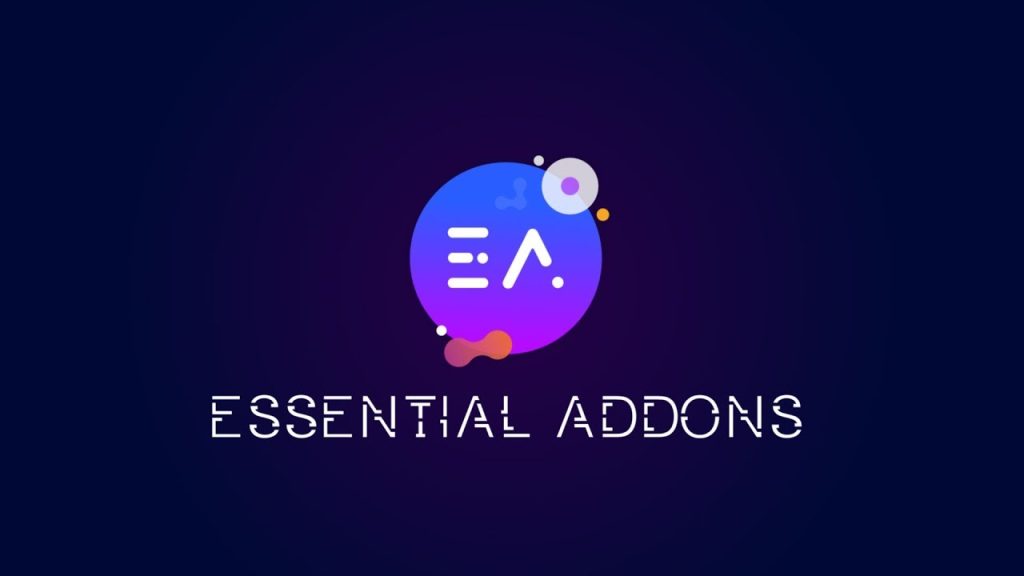 Essential Addons for Elementor
Essential Addons is an Elementor addon plugin created by the WPDeveloper team. They are the creators of numerous other popular WordPress plugins, including BetterDocs and NotificationX. WPDeveloper's Essential Addons adds over 70 widgets and extensions to the Elementor page builder.
Essential Addons for Elementor ranks on a significant list with over 1 million active installations. It is one of the top Elementor additions for WordPress users. The plugin includes 70+ creative elements and extensions that will take your Elementor page-building experience to the next level. You have complete control over modification. which means you can easily alter all of the aspects to meet your needs. The plugin is easy to use and user-friendly requiring no prior expertise.
The Essential Addons for Elementor plugin includes 45 helpful widgets that will help you improve your creative capabilities. You will get the package that comes with a distinct Essential Add-ons menu with choices such as a data table, timer, flip box, and so on. The premium version of this plugin includes 30 extra elements. The premium extensions will allow you to add visual effects to your website.

Prime Slider
Prime Slider is a fast, fully adjustable, and functional slider plugin that is suitable for any Elementor site, including Blogging, eCommerce, and so on. It also has an up-to-date UI/UX. Prime Slider is the best slider plugin for WordPress and a must-have Elementor extension for you to use. It has a wide range of current and fashionable slider design options and features. 
The plugin performs as a drag-and-drop slider tool with numerous customization options. This plugin has over 30 modern sliders that you can use at any moment. You can also modify them to make them appear amazing on your website.
Prime Slider is currently used by more than 30,000 WordPress websites worldwide. You may handle elements like your logo, menu, and off-canvas by using this plugin. Also, you can give social share buttons, titles, subtitles, and backdrops an attractive appearance.
Consequently, Prime Slider is the finest plugin for you if you're seeking a solution for integrating stylish, current, and modern slides into your WordPress website.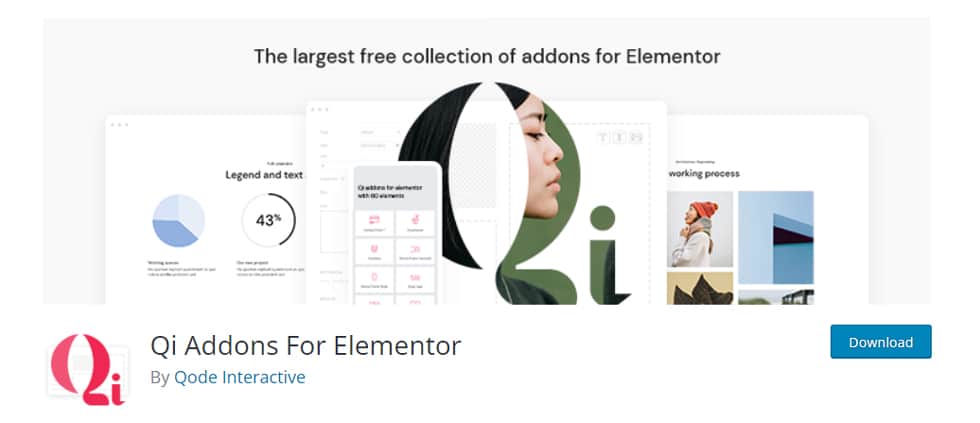 Qi Addons
Qi Addons for Elementor is the world's most extensive free library of personalized and fully customizable Elementor widgets. It was created by one of the most popular premium WordPress theme authors, the award-winning Qode Interactive.
Qi Addons for Elementor is an excellent plugin that expands the functionality of the Elementor page builder. These widgets are user-friendly and very easy to use. They also contain an enormous number of options that allow you to completely customize your website. Here you will get a large number of different addon types such as business and infographics to create, showcase, and even typography addons.
Moreover, you'll be able to construct gorgeous and distinct page sections that correctly match your design. These new features are appropriate for almost every type of website, including online portfolios, blogs, creative firms, and companies. Furthermore, you do not need to know how to code to achieve it.
The options for working with Qi Addons for Elementor are practically limitless for you. You can simply install the plugin, drag and drop a widget of your choice, and start experimenting with the fully customizable settings. You'll also be able to see all of your improvements in real time. It allows you to rapidly personalize all of your widgets and create something truly unique.
You will get the free edition of Qi Addons includes 60+ strong widgets that are unique for Elementor. On the other hand, you get the premium version includes 100+ systematically crafted, complete widgets. Qi Addons for Elementor presents you with a strong, straightforward, and simplified solution to build your fascinating new website using this Elementor Page Builder just how you imagined it.
You receive one of the largest widget collections for free. At the same time, each element was designed to allow you to construct a wide range of different, attractively designed sections for your pages. And amazingly you will get this with no effort for coding.

Elementskit
One of the most popular improvements for Elementor is ElementsKit. It provides 500+ ready blocks or sections, 35+ ready pages, 70+ free and premium widgets, 45+ pre-designed header & footer templates, and more. The number of these items is always growing.
It is full of excellent features that make it easy to create websites with stunning layouts. It is quick, extremely rapid, and incredibly simple to use. Because of this, it has more than 400,000 users who still use it regularly.
It enables you to create smooth websites by utilizing powerful features. Such as MegaMenu, Exceptional Sticky, Conditional Content, Extraordinary Parallax filter, Cutting-Edge Table, Cross-Domain Copy Paste, and so on.
Another important part of any website is the header footer. You can add a Category List, Page List, Header Info, Header-Search, Offcanvas Header, Vertical Menu, and Nav Menu by using Elementkit's widgets. It also allows you to share posts on various types of social media like Facebook, Twitter, Instagram and so many.
Additionally, you can link powerful mail marketing solutions. Caldera Forms, weForms, WP Forms, Ninja Forms, MailChimp, Fluent Forms, and Contact Forms 7 will improve your user interaction. You also get posting elements, a WooCommerce bundle, a widget builder, a review and webinar bunch, etc in this addon.

Elementor Custom Skin
Elementor Custom Skin provides you with free power to your Elementor post grids. You can quickly add new custom skins to the posts and post archive widgets built by Elementor Page Builder by using this plugin. In terms of active installations, this plugin is used by over 100,000 WordPress sites, making it one of the finest Elementor extensions of all time. 
The Elementor Custom Skin plugin allows you to change the overall layout of your posts and collections. It also allows you to easily construct post grids. You get a number of fantastic templates to choose from, and the greatest part is that it is free.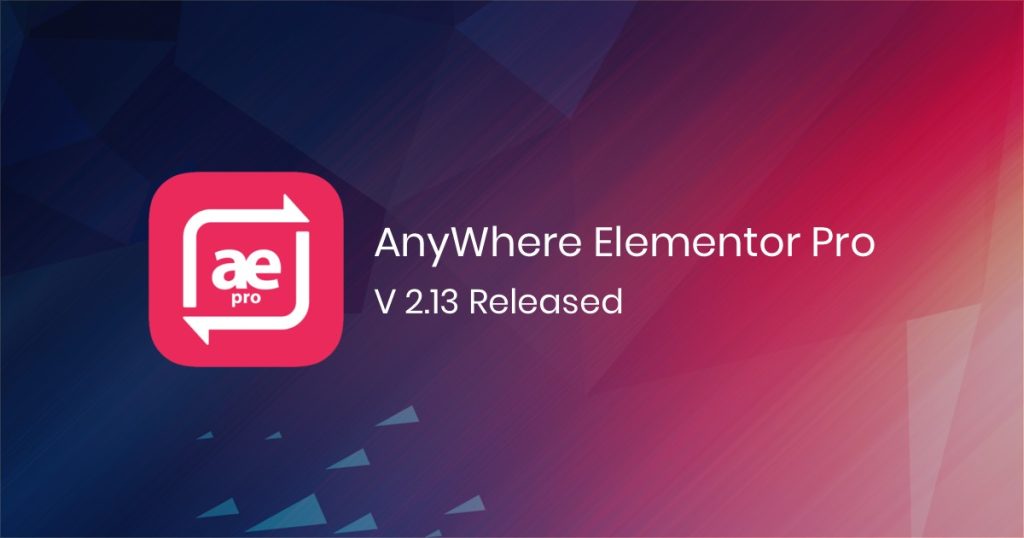 Anywhere Elementor Addons
AnyWhere Elementor is a fantastic and must-have Elementor Page Builder extension. This plugin allows you to insert a shortcode that allows you to place Elementor pages, library templates, and global templates anywhere on your WordPress site. You can use this plugin with Elementor Page Builder on over 90,000 WordPress sites.
You get numerous functions with the AnyWhere Elementor plugin's pro edition. Like, global post layouts, post archive templates, category and tag templates, WooCommerce product and category layouts, 404-page design, search page design, and much more.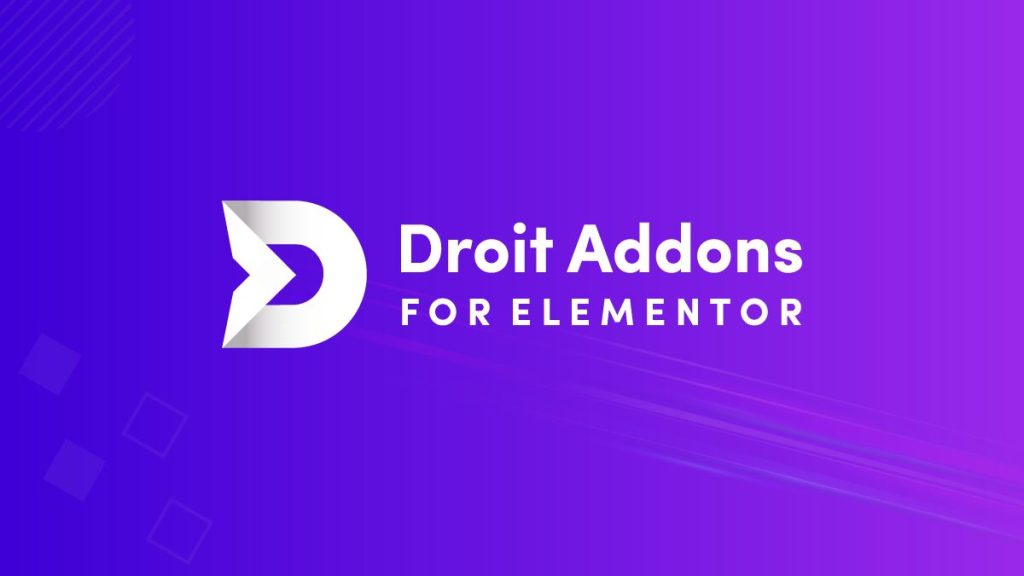 Droit addons
Droit Elementor Addons is an Elementor Page Builder Plugin addon. It will improve your web design skills. It has useful widgets, a ready-to-use library, on-demand asset loading, and other features. Each widget in the Elementor addons provides you with a variety of settings that can be used within WordPress and Elementor. The Droit Addon plugin has everything you'll need to boost your Elementor page-building skills. The plugin is also completely responsive, multiple browsers tested, and free.
You have a lot of alternatives with 23+ new widgets, 70+ block sections, and 9+ full-page themes to choose from. You can create a visually engaging homepage using an image carousel, banners, and moving text. You can include icons, FAQs, pricing tables, and testimonials on your service pages. Moreover, blog pages with news tickers, sharing buttons, and editable blog lists and grids can be created.
Some other features like Local scroll, parallax, infinite section nesting, custom CSS, slow loading, and Lottie easily you get in this addon. Simply said, in the Droit Elementor Addon your range is limitless.

Shoplentor
Shoplentor, one of the greatest Elementor additions for WooCommerce sites, is another significant plugin. It includes a WooCommerce builder that allows you to easily design custom product pages and archive pages. It enables them to customize their WooCommerce store without prior coding experience. They can quickly develop and change product pages, categories, shopping carts, and so on. This plugin is currently utilized by over 70,000 WordPress sites worldwide.
This plugin includes 40+ product layouts as well as fantastic styling options. It helps you to exhibit your latest items, featured products, best-selling products, on-sale products, category products, and so on. Furthermore, it allows you to add an endless number of background colors and graphics to make your product tabs appear more attractive and professional-looking.

Metform Elementor Addons
Metform Elementor Addon is the most flexible and design-friendly Elementor Contact Form builder. Because of its drag-and-drop user experience, you can simply construct any type of form with the help of this plugin without writing any code. You can also manage and configure several contact forms or other forms with Elementor Page Builder. This plugin is now used on over 70,000 WordPress sites to build and manage WordPress forms.
You can use the Metform Elementor Addon to construct contact forms, subscription forms, feedback forms, and any other forms if you wish to add to your WordPress site. This plugin's forms are mobile responsive and look fantastic on all devices, no matter the size.
Rules to follow when you are selecting the best Elementor addons
When you are entering into the vast repository of Elementor add-ons, you can start to feel overwhelmed by the number of addons available. The problem is deciding which Elementor addons are worthwhile to buy for you. It is not wise to go through the hassle of manually checking each one that can result in the collapse of your website. Here you get the following things to look for when searching for Elementor addons in order to help you.
The first and most essential consideration is your budget. Before purchasing one, think about what extra features you need. Choose the one that best fits your requirements. Then you must consider the functionalities of addons. Just enable the functions you need and disable the rest functions because extra functions can slow down your website.
Another important thing to notice is the capabilities of customization of add-ons. The plugin you need should be adaptable and capable of making the modifications you need. Finally, updates and support are crucial things to keep in your consideration. It is vital to keep everything on your WordPress site, including extensions, up to date. You should make certain that the one you select is continually updated and that you can easily contact them for assistance if you run into any problems.
Final Thoughts
Nowadays, everything revolves around the consumer. This includes WordPress plugins. You can provide reviews and ratings. If the reviews and ratings for Elementor addons are bad, they will speak for themselves. Furthermore, the number of active consumers provides credibility to a product.
The post has provided an overview of the top 10 best Elementor addons to use with Elementor Page Builder. We are all aware that Elementor is the best drag-and-drop page builder for creating web pages and even a complete website without any prior coding experience. You can take your web design experience to the next level by using any of these 10 Elementor addons. Now, it's up to you which one to choose. Don't forget to let us know about your favorite Elementor addons.